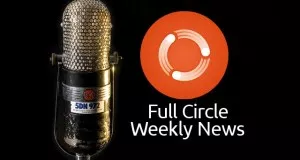 Full Circle Weekly News 106
6 Sep 2018 · 1 minutes
Firefox Browser Will Soon Block All Web Trackers By Default UBports Releases Ubuntu Touch OTA-4 for Ubuntu Phones, Based on Ubuntu 16.04 LTS Ubuntu and CentOS Are Undoing a GNOME Security Feature
Full Circle Magazine 87
25 Jul 2014 · 1 minutes
This month Command & Conquer How-To : Python, LibreOffice, and GRUB2 Graphics : Inkscape Book Review: Puppet Security - TrueCrypt Alternatives CryptoCurrency: Dualminer and dual-cgminer Arduino Plus: Q&A, Linux Labs, Ubuntu Games, and Ubuntu Women.
Full Circle Magazine 11
28 Mar 2008 · 1 minutes
This issue contains… Linux Mint vs. Ubuntu TrueCrypt on Ubuntu, iPod Classic + Amarok, Introduction to LaTeX, and more! Lenovo 3000 C200 and Ubuntu Top 5, My Desktop, and more! Correction: p.