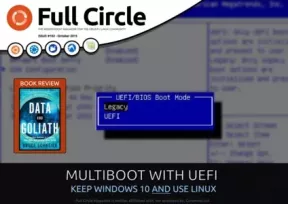 Full Circle Magazine 102
30 Oct 2015 · 1 minutes
This month Command & Conquer How-To : Python in the Real World, MultiBoot with UEFI, Website With Infrastructure and Ubuntu Minimal Install Graphics : Inkscape. Chrome Cult Linux Labs: Wiping Hard Drives Ubuntu Phones: OTA-7 Ubuntu Games: Streaming Games Plus: News, Arduino, Book Review, Q&A, Security, and soooo much more.
Full Circle Magazine 37
28 May 2010 · 1 minutes
This month Command and Conquer. How-To : Program in Python - Part 11, Adding Screenlets, and Streaming Media. Review - Lubuntu. MOTU Interview - Stefan Lesicnik. Top 5 - Tiling Window Managers.