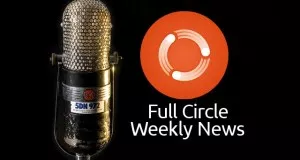 Full Circle Weekly News 15
30 Apr 2016 · 1 minutes
Linux expert Matthew Garrett says Ubuntu 16.04's new Snap format is a security risk Ubuntu Budgie 16.04 Officially Released Based on Ubuntu 16.04 and Budgie Desktop Microsoft reveals all about Windows 10's Linux subsystem
Full Circle Magazine 56
25 Dec 2011 · 1 minutes
This month Command and Conquer. How-To : Make 11.10 Look 'Classic', LibreOffice - Part 10, Backup Strategy - Part 4, Persistent USB Stick, and Connect To IRC. Linux Lab - Xbox Media Centre.
Full Circle Magazine 12
25 Apr 2008 · 1 minutes
This month Flavor of the Year** - How Ubuntu and Kubuntu have matured in twelve months. How-To - Creating & Distributing Deb files, Ubuntu Disk Usage, Backup with Partimage, Using GIMP Part 1 and Create Your Own Server Part 4 Review of Wiki on a Stick.