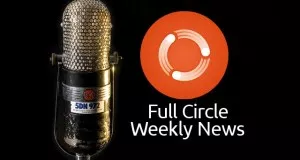 Full Circle Weekly News 78
28 Jan 2018 · 1 minutes
Ubuntu Core: A secure open source OS for IoT Google Moves Away from Ubuntu Improved Speech Recognition hopes for Ubuntu RubyMiner Transmission Bug Wine 3.0
Full Circle Magazine 117
27 Jan 2017 · 1 minutes
This month Command & Conquer How-To : Python (Arduino), Snappy on an EEE PC, and Program With FreePascal Graphics : Inkscape [NEW!] Kdenlive ChromeCult: Dropbox Paper Linux Labs: Dictating a Novel KODI Room Book Review: Invent Your Own Computer Games With Python Ubuntu Games: Life Is Strange Plus: News, Q&A, and soooo much more.
Full Circle Magazine 50
24 Jun 2011 · 1 minutes
This month Command and Conquer. How-To : Program in Python - Part 24, LibreOffice - Part 5, Ubuntu Development - Part 2, and Use KDE (4.6). Linux Lab - Gnome Shell -vs- Unity.