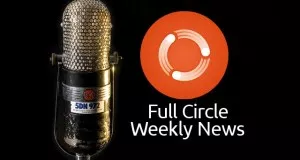 Full Circle Weekly News 55
25 Mar 2017 · 1 minutes
Apologies for the lack of shows for the past two weeks. I had a heavy cold and assumed you wouldn't want me coughing and sniffling in your ears. :) Canonical extends Ubuntu 12.
Full Circle Magazine 47
26 Mar 2011 · 1 minutes
Please enjoy the 47th edition of Full Circle Magazine! Other languages French PDF Hungarian PDF Italian EPUB Italian PDF
Full Circle Magazine 30
30 Oct 2009 · 1 minutes
This month How-To: Program in Python - Part 4, Applications for Bookworms, Installing OpenOffice.org Base. My Story - The Doctor Is In, Recording Porgy & Bess, Ubuntu Reincarnates Pensioners Laptop Command and Conquer My Opinion - Acer Aspire One Distros Review - Sony PRS-505 Ebook Reader MOTU Interview - Thierry Carrez.