Full Circle Magazine 100
28 Aug 2015 · 1 minutes
This month Our Great Ancestor: Warty Warthog Command & Conquer How-To : Python, LibreOffice, Website with Infrastructure, and Programming COBOL Graphics : Inkscape. Survey Results Chrome Cult Linux Labs: How I Learned To Love Ubuntu Site Review A Quick Look At: Linux in Industry, and the French Translation Team Ubuntu Phones [NEW!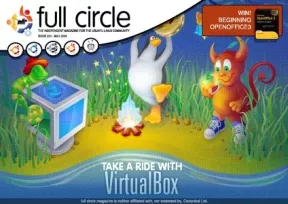 Full Circle Magazine 25
30 May 2009 · 1 minutes
This month, we've got some good stuff for you. Coming your way is all the usual, including Command and Conquer - Shell History. How To: Test Drive VirtualBox, Increase Game Speed In X, and Inkscape - Part 2.
Full Circle Magazine 12
25 Apr 2008 · 1 minutes
This month Flavor of the Year** - How Ubuntu and Kubuntu have matured in twelve months. How-To - Creating & Distributing Deb files, Ubuntu Disk Usage, Backup with Partimage, Using GIMP Part 1 and Create Your Own Server Part 4 Review of Wiki on a Stick.