Browsing articles tagged with " xubuntu"
Full Circle – the independent magazine for the Ubuntu Linux community
are proud to announce the release of our seventy seventh issue.
This month:
* Ubuntu News
* Command & Conquer
* How-To : Python, LibreOffice, and Lazarus.
* Graphics : Blender, and Inkscape.
Full Circle 51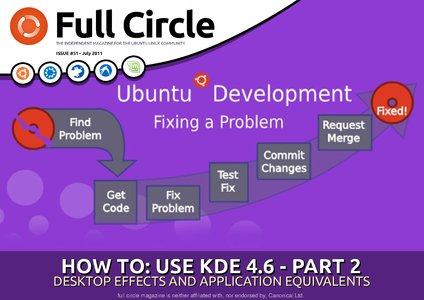 This month:
* Command and Conquer.
* How-To : Program in Python – Part 25, LibreOffice – Part 6, Ubuntu Development – Part 3, and Using KDE (4.6) Part 2.
* Linux Lab – Creating Your Own Repository.
* Review – GRAMPS.
* Top 5 – VOIP Clients.
* I Think – What Distro(s) Do You Use?
plus: Ubuntu Games, My Story, and much much more!
Get it while it's hot!
http://fullcirclemagazine.org/issue-51/
Yes indeedy folks, here it is, Full Circle #28!
This month:
* Command and Conquer
* How-To : Program in Python – Part 2, LAMP Server – Part 1, Networking with SSHFS
and Fast Internet With Squid.
* My Story – My Linux Experience I and II.
* My Opinion – AllMyApps
* Review – Tellico.
* MOTU Interview – Stephane Graber.
* Top 5 – SIP Clients.
* Ubuntu Women Interview, Ubuntu Games and all the usual goodness!
Issuu
You can also read
Full Circle
online at:
http://issuu.com/fullcirclemagazine
Subscribe
You can subscribe to get an email update every time a new issue of the magazine comes out.
About
Full Circle is a free, independent, monthly magazine dedicated to the Ubuntu family of Linux operating systems. Each month, it contains helpful how-to articles and reader submitted stories.
Full Circle also features a companion podcast, the Full Circle Podcast, which covers the magazine along with other news of interest.