Browsing articles tagged with " python"
Full Circle – the independent magazine for the Ubuntu Linux community are proud to announce the release of our forty-ninth issue.
This month:
* Command and Conquer.
* How-To : Program in Python – Part 23, LibreOffice – Part 4, Ubuntu Development – Part 1, and Use Google In Thunderbird.
* Linux Lab – Swappiness Part Two.
* Review – Virtual Machines.
* Top 5 – Web Management Tools.
* NEW COLUMN! I Think - we pose a question and you, the readers, give your thoughts. This month: what do you think of Unity?
plus: Ubuntu Games, My Story, and much much more!
Get it while it's hot!
http://fullcirclemagazine.org/issue-49/
Full Circle Magazine – Python Special Edition #02
This special edition is a reprint of the Python articles from FCM#09 – #16

Grab it from: http://fullcirclemagazine.org/python-special-edition-2/
Many thanks to Robin (podcast) Catling for creating these with his PDF magick.
Roll up, roll up! Try your hand at grappling with the mighty Python.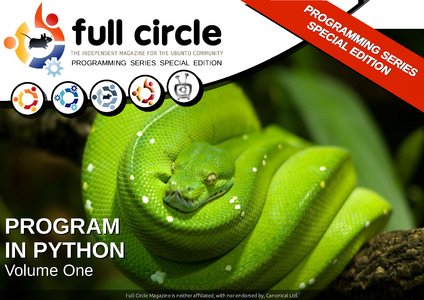 This is the first of (thus far) four Python Special Editions.
Special Edition (SE) 01 is simply a reprint of Parts 01 – 08 by Greg Walters.
Grab it while it's sleeping!
http://fullcirclemagazine.org/python-special-edition-1/
Issuu
You can also read
Full Circle
online at:
http://issuu.com/fullcirclemagazine
Subscribe
You can subscribe to get an email update every time a new issue of the magazine comes out.
About
Full Circle is a free, independent, monthly magazine dedicated to the Ubuntu family of Linux operating systems. Each month, it contains helpful how-to articles and reader submitted stories.
Full Circle also features a companion podcast, the Full Circle Podcast, which covers the magazine along with other news of interest.