Browsing articles tagged with " news"
It has arrived. Quite possibly the biggest issue ever. A whopping 63 pages of FCM goodness!
Enjoy!
This month:
* Command & Conquer
* How-To : Program in Python, LibreOffice, Using LaTeX, and [NEW!] Programming JavaScript
* Graphics : Inkscape.
* [NEW!] Chrome Cult
* Linux Labs: OwnCloud
* [NEW!] Ubuntu Phones – Interview with Cristian Parrino
* Review: Precision m3800 DE laptop
* Ubuntu Games: Cities: Skylines
plus: News, Arduino, Q&A, and soooo much more.
Our glorious news reporters have begun posting news items directly to the site to keep you informed of all the latest Linux related news.
Clicking the NEWS link at the top of the site will show you the headlines, while looking to the right will show the five latest news posts.
Feel free to comment on the news stories as maybe the comments could expand the news section in the magazine.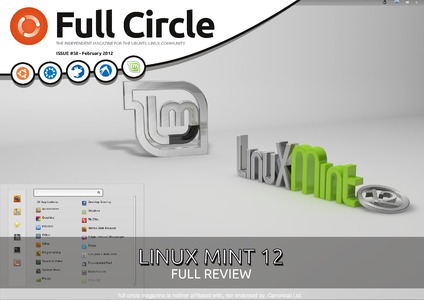 This month:
* Command and Conquer.
* How-To : Beginning Python – Part 30, LibreOffice – Part 12, Backup Strategy – Part 6, Screencast Your Desktop, and The Paperless Office.
* Linux Lab – Useful Investigative Tools.
* Review – Linux Mint 12
* I Think – Which Mobile OS.
* Closing Windows – Formatting a USB Device
plus: more Ubuntu Games, My Desktop, My Opinion, My Story, and much much more!
Get it while it's hot!
Read Full Circle at:
You can also read
Full Circle
online at:
http://issuu.com/fullcirclemagazine

You can also read Full Circle online via Google Play/Books
Go on Flattr us
All donations go to buying you folks some awesome competition prizes.
About
Full Circle is a free, independent, monthly magazine dedicated to the Ubuntu family of Linux operating systems. Each month, it contains helpful how-to articles and reader submitted stories.
Full Circle also features a companion podcast, the Full Circle Podcast, which covers the magazine along with other news of interest.