Browsing articles tagged with " magazine"
Full Circle Magazine – Python Special Edition #02
This special edition is a reprint of the Python articles from FCM#09 – #16

Grab it from: http://fullcirclemagazine.org/python-special-edition-2/
Many thanks to Robin (podcast) Catling for creating these with his PDF magick.
Roll up, roll up! Try your hand at grappling with the mighty Python.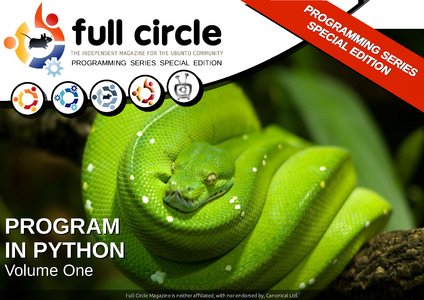 This is the first of (thus far) four Python Special Editions.
Special Edition (SE) 01 is simply a reprint of Parts 01 – 08 by Greg Walters.
Grab it while it's sleeping!
http://fullcirclemagazine.org/python-special-edition-1/
Yes indeedy folks, here it is, Full Circle #28!
This month:
* Command and Conquer
* How-To : Program in Python – Part 2, LAMP Server – Part 1, Networking with SSHFS
and Fast Internet With Squid.
* My Story – My Linux Experience I and II.
* My Opinion – AllMyApps
* Review – Tellico.
* MOTU Interview – Stephane Graber.
* Top 5 – SIP Clients.
* Ubuntu Women Interview, Ubuntu Games and all the usual goodness!
That's right folks, FCM#21 is finally here!
* Command and Conquer – Formatting Output. (shell script can be downloaded from this page)
* How-To : Program in C – Part 5, Web Development – Part 2, Changing Video Aspect Ratios & Ubuntu ISO to Bootable USB.
* My Story – Creative Zen V Plus in Ubuntu
* Game Review – Tribal Trouble 2
* My Opinion – Missed Opportunity
* MOTU Interview – Nicolas Valcarcel
* Top 5 – Torrent Tools
* PLUS – FCM#20 Survey Results
Get it while it's hot!
Issuu
You can also read
Full Circle
online at:
http://issuu.com/fullcirclemagazine
Go on Flattr us
All donations go to buying you folks some awesome competition prizes.
Subscribe
You can subscribe to get an email update every time a new issue of the magazine comes out.
About
Full Circle is a free, independent, monthly magazine dedicated to the Ubuntu family of Linux operating systems. Each month, it contains helpful how-to articles and reader submitted stories.
Full Circle also features a companion podcast, the Full Circle Podcast, which covers the magazine along with other news of interest.