Browsing articles tagged with " mag"
Full Circle Magazine – LibreOffice Special Edition Volume 01
Welcome to another 'single-topic special'
In response to the latests calls, we are assembling another of our serialised articles into dedicated editions.
Here is a straight reprint of the series 'Libre Office', Parts 1-7 from issues #46 through #52; thanks to the efforts of Elmer Perry.

Go get it from: http://fullcirclemagazine.org/libreoffice-special-edition-volume-one/
Note: the file-size for this edition is 8.8Mb
Google+
Continue Reading »
An article by
Robin Catling
3 Comments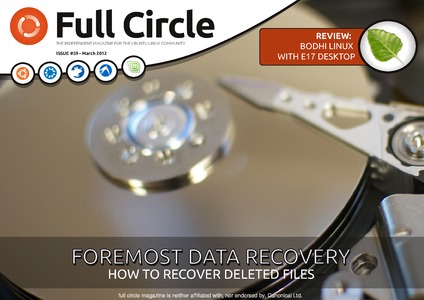 This month:
* Command and Conquer.
* How-To : Beginning Python – Part 31, LibreOffice – Part 13, Portable Linux, Resizing Your VirtualBox Drive, and Create Your Own Greeting Card.
* Linux Lab – Foremost for data recovery.
* Review – Bodhi Linux
* I Think – What turns to/from a distro?
* Closing Windows – Task Manager
plus: more Ubuntu Games, My Desktop, My Opinion, My Story, and much much more!
 Coooooome an' get it!
Google+
Continue Reading »
An article by
Ronnie
2 Comments
Yes indeedy folks, here it is, Full Circle #28!
This month:
* Command and Conquer
* How-To : Program in Python – Part 2, LAMP Server – Part 1, Networking with SSHFS
and Fast Internet With Squid.
* My Story – My Linux Experience I and II.
* My Opinion – AllMyApps
* Review – Tellico.
* MOTU Interview – Stephane Graber.
* Top 5 – SIP Clients.
* Ubuntu Women Interview, Ubuntu Games and all the usual goodness!
http://fullcirclemagazine.org/issue-28/
Google+
Issuu
You can also read
Full Circle
online at:
http://issuu.com/fullcirclemagazine
Subscribe
You can subscribe to get an email update every time a new issue of the magazine comes out.
About
Full Circle is a free, independent, monthly magazine dedicated to the Ubuntu family of Linux operating systems. Each month, it contains helpful how-to articles and reader submitted stories.
Full Circle also features a companion podcast, the Full Circle Podcast, which covers the magazine along with other news of interest.
Who's Online
36 visitors online now