Python Special Edition 1
This is the first of (thus far) four Python Special Editions.
Special Edition (SE) 01 is simply a reprint of Parts 01 – 08 by Greg Walters.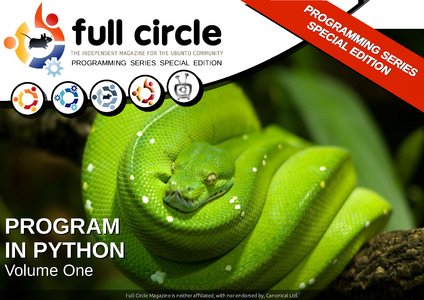 English
Thanks go out to Robin Catling for taking the time (and managing) to compile these Special Editions.
Read Full Circle at:
You can also read
Full Circle
online at:
http://issuu.com/fullcirclemagazine

You can also read Full Circle online via Google Play/Books
Go on Flattr us
All donations go to buying you folks some awesome competition prizes.
About
Full Circle is a free, independent, monthly magazine dedicated to the Ubuntu family of Linux operating systems. Each month, it contains helpful how-to articles and reader submitted stories.
Full Circle also features a companion podcast, the Full Circle Podcast, which covers the magazine along with other news of interest.