Browsing articles in "website"
UPDATE: Normal service has resumed.
Full Circle
Issue #73


Full Circle – the independent magazine for the Ubuntu Linux community
are proud to announce the release of our seventy third issue.
This month:
* Ubuntu News.
* How-To : Programming in Python, LibreOffice, and An Intro To SQLite.
* Graphics : Blender, and Inkscape.
* Review: TV Browser & CMUS.
* AND: New Ubuntu Games writers and the Reader Survey 2013 results!

Jovan from SpiderOak has emailed me an exclusive code for Full Circle readers. Before I continue, a quick disclaimer:
You should only use this code if you currently have less than 4GB, or are a new user. Using it on accounts larger than 4GB may actually drop your storage space.
So, with the disclaimer out of the way, log in to your SpiderOak.com account via the website then go to 'Account' (top right) then click the 'Buy More Space' button. Now enter this code:
FullcirclemagFans
You'll now have two options. Up your storage to 4GB, or buy a storage package for 25% off.
PLEASE NOTE: the 4GB option of the code will expire on the 28th June. Using the code after that date will still get you 25% off.
Enjoy your extra space, and thanks to Jovan at SpiderOak for the kind offer.
It's a warm and lazy Sunday afternoon here at FCM Towers*, so I thought I'd put up a post showing some of the data from our visitors map (aka: The FCM Map of Awesomeness) and Google Analytics. I mean what proper geek doesn't like numbers and graphs?
* We don't actually have a tower, but it makes us seem bigger.
First, the world:
Approximately 46k visitors in 40 days. That's not bad! Google Analytics tells me that the average pages per visit is 3, and the average stay is 3mins. You folks don't have much in the way of an attention span, do you? Roughly 55% are new visitors, and about 45% are bounces.
Zooming in:
O'Reilly are looking forward to celebrating Velocity's 5th Year with you June 25-27, at the Santa Clara Convention Center. You'll meet the smartest people working in web performance and operations at the O'Reilly Velocity Conference. Web and mobile users expect better performance than ever before. To meet, and exceed, their expectations, you need to master a daunting array of web performance, operations, and mobile performance issues. Velocity offers the best opportunity to learn the newest info on what you need to know to build a faster and stronger web.
Take advantage of this rare opportunity to meet face-to-face with a cadre of industry leaders who are taking web performance and operations to the next level. Velocity packs a wealth of big ideas, know-how, and connections into three concentrated days. You'll be able to apply what you've learned immediately and you'll be well prepared for what lies ahead with four in-depth tracks covering the key aspects of web performance, operations, mobile performance, and Velocity culture.
Velocity has sold out the last two years, so if you want to reserve your spot at Velocity 2012, register now and save an additional 20% with code FULLCIR
FULL DECLARATION: We, Full Circle, make nothing from this, we just want to bring you folks discounts.
Google+ user Kevin Lynch has made a quick script (updated by David Mawdsley) to download multiple issues:
—-
#!/bin/bash
echo -n "What is the issue number of the first Full Circle Magazine to
download? "
read firstissue

echo ""
echo -n "What is the issue number of the last Full Circle Magazine to
download? ( > or = the previous number) "
read lastissue

cd ~/Desktop  # ~ brings you to the home directory of the user and from
there I wanted to use my folder 'Desktop'

for a in `seq $firstissue $lastissue`
    do
        wget -U Mozilla "http://dl.fullcirclemagazine.org/issue"$a"_en.pdf"
    done

echo ""
echo "Complete!"
I'm trying out a new idea which I hope will make it easier for readers to suggest articles and for writers to get ideas.
I've created a Full Circle project, and a Full Circle team, on LaunchPad. The idea being that non-writers can go to the project page, click 'Answers' at the top of the page, and leave your article ideas, but please be specific with your idea! Don't just put 'server article', please specify what the server should do!
Readers who fancy writing an article, but aren't sure what to write about, can register on the Full Circle team page then assign article ideas to themselves and get writing! I would ask that if you can't get the article written within several weeks (a month at most) that you reopen the question to let someone else grab the idea.
I hope that this will let you good folks participate more!  :)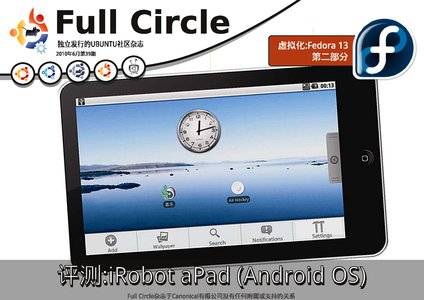 That's right, Full Circle issue 39 is out!  We've got a review of the iRobot iPad Android tablet, talk about virtualizing Fedora, virtual memory, new interviews, and more! (Oh, and we seem to have the recurring theme of '13′ in our articles.)
This month:
Command and Conquer.
How-To : Program in Python – Part 13, Virtualize – Fedora 13, and Understand Virtual Memory.
Review – iRobot iPad.
Top 5 – Documentation Sites.
plus: MOTU Interview, Ubuntu Games, My Opinion, My Story, and now with all new LoCo and Translation Team interviews!
Download it here, as always.
(P.S. We just overhauled the back end of the site.  If you've made an account or comment within the last 36 hours, it may have disappeared.  Plus, f anything seems awry to you, please, let us know!  Thanks!)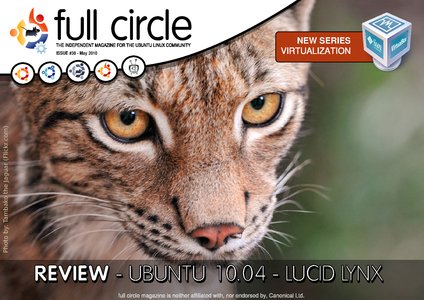 In this issue, a review of Ubuntu 10.04, a new series on virtualization, and much, much more. Also, don't forget to listen to the companion Full Circle Podcast for some good insight into the Ubuntu world.
This month:
Command and Conquer.
How-To : Program in Python – Part 12, a NEW SERIES: Virtualization, and Browser Blogging.
Review – Ubuntu 10.04.
Top 5 – Favourite Applications.
plus: MOTU Interview, Ubuntu Games, My Opinion, My Story, and all the usual goodness!
Download issue #38 here!
Full Circle Podcast #3: Hail the Mental Mongoose!
The podcast is in MP3 and OGG formats. You can either play the podcast in-browser if you have Flash and/or Java, or you can download the podcast with the link underneath the player.
FCM Podcast #3 - MP3
[ 58:53 ]
Play Now
|
Play in Popup
|
Download
(6136)
FCM Podcast #3 - OGG
[ 58:53 ]
Play Now
|
Play in Popup
|
Download
(3550)
This month, we've got a double whammy for you!  Not only do we have FCM #35 (with a review of the Motorola Droid/Milestone), but we also have a new episode of the Full Circle podcast coming at you in a few minutes.

This month:
Command and Conquer.
How-To : Program in Python – Part 9, Digitally Retouching a Photo in GIMP – Part 2, and Installing Google SketchUp using Wine.
Review – Motorola Milestone/Droid.
MOTU Interview – Pedro Fragoso.
Top 5 – Android Applications.
Ubuntu Women, Ubuntu Games, My Opinion, My Story, and all the usual goodness!
Grab the download here!
Issuu
You can also read
Full Circle
online at:
http://issuu.com/fullcirclemagazine
Go on Flattr us
All donations go to buying you folks some awesome competition prizes.
Subscribe
You can subscribe to get an email update every time a new issue of the magazine comes out.
About
Full Circle is a free, independent, monthly magazine dedicated to the Ubuntu family of Linux operating systems. Each month, it contains helpful how-to articles and reader submitted stories.
Full Circle also features a companion podcast, the Full Circle Podcast, which covers the magazine along with other news of interest.