Full Circle issue 53 is here!
An article by
Ronnie
4 Comments
This month:
* Command and Conquer.
* How-To : Program in Python – Part 27, LibreOffice – Part 8, Backup Strategy – Part 1, GRAMPS – Part 2, and Ubuntu For Business & Education – Part 2.
* Linux Lab – ZoneMinder CCTV – Part 2.
* Review – Linux Mint 11.
* I Think – With the rise of internet email, do we still need an email client installed by default?
plus: Ubuntu Games, My Story, and much much more!
PLEASE NOTE: Apologies for the blank columns in this issue. Richard is MIA, and I have the flu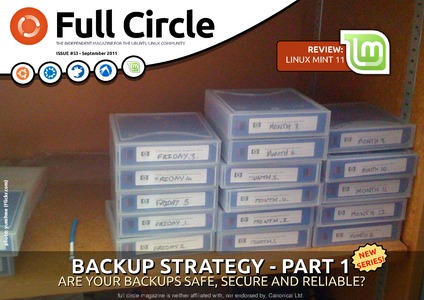 Get it while it's hot!
http://fullcirclemagazine.org/issue-53/
Google+
Related Posts
I'm the founder, and editor, of Full Circle magazine. Also, a self taught artist, official Ubuntu member and I've been using Linux exclusively (in one form or another) for over five years now.
Issuu
You can also read
Full Circle
online at:
http://issuu.com/fullcirclemagazine
Subscribe
You can subscribe to get an email update every time a new issue of the magazine comes out.
About
Full Circle is a free, independent, monthly magazine dedicated to the Ubuntu family of Linux operating systems. Each month, it contains helpful how-to articles and reader submitted stories.
Full Circle also features a companion podcast, the Full Circle Podcast, which covers the magazine along with other news of interest.
Who's Online
37 visitors online now
35 guests, 2 members