It's here, the Python Special Edition #01!
An article by
Ronnie
3 Comments
Roll up, roll up! Try your hand at grappling with the mighty Python.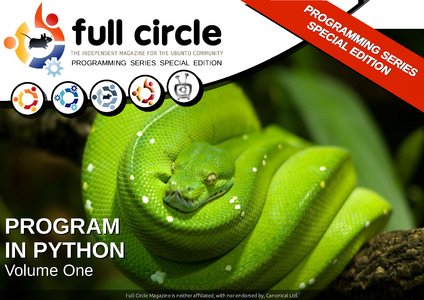 This is the first of (thus far) four Python Special Editions.
Special Edition (SE) 01 is simply a reprint of Parts 01 – 08 by Greg Walters.
Grab it while it's sleeping!
http://fullcirclemagazine.org/python-special-edition-1/
Related Posts
Read Full Circle at:
You can also read
Full Circle
online at:
http://issuu.com/fullcirclemagazine

You can also read Full Circle online via Google Play/Books
Go on Flattr us
All donations go to buying you folks some awesome competition prizes.
About
Full Circle is a free, independent, monthly magazine dedicated to the Ubuntu family of Linux operating systems. Each month, it contains helpful how-to articles and reader submitted stories.
Full Circle also features a companion podcast, the Full Circle Podcast, which covers the magazine along with other news of interest.