Up, up, and away with issue 43!
An article by admin
5 Comments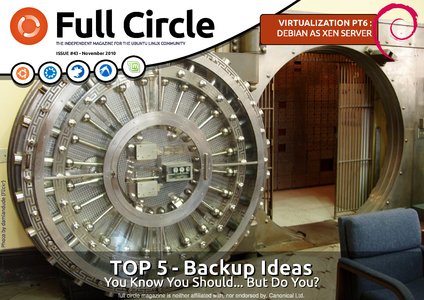 We've got issue 43 out with more of the great FCM goodness that you've come to enjoy.  This month, we've got stuff like:
Command and Conquer.
How-To : Program in Python – Part 17, Virtualize Part 6 – Debian & Xen, and Editing Photos With Raw Therapee.
Review – Conky & Untangle.
Top 5 – Backup Ideas.
Readers Survey 2010 Comments & Replies!
plus: Interviews, Ubuntu Games, My Opinion, My Story, and much much more!
Grab it here!
P.S. Have you been missing out on the Full Circle Podcasts? They're worth a listen or three!
Read Full Circle at:
You can also read
Full Circle
online at:
http://issuu.com/fullcirclemagazine

You can also read Full Circle online via Google Play/Books
Go on Flattr us
All donations go to buying you folks some awesome competition prizes.
About
Full Circle is a free, independent, monthly magazine dedicated to the Ubuntu family of Linux operating systems. Each month, it contains helpful how-to articles and reader submitted stories.
Full Circle also features a companion podcast, the Full Circle Podcast, which covers the magazine along with other news of interest.