We've got issue 39 out for you!
An article by admin
6 Comments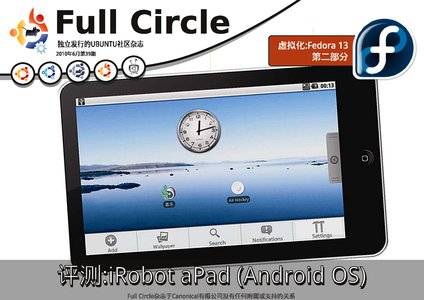 That's right, Full Circle issue 39 is out!  We've got a review of the iRobot iPad Android tablet, talk about virtualizing Fedora, virtual memory, new interviews, and more! (Oh, and we seem to have the recurring theme of '13' in our articles.)
This month:
Command and Conquer.
How-To : Program in Python – Part 13, Virtualize – Fedora 13, and Understand Virtual Memory.
Review – iRobot iPad.
Top 5 – Documentation Sites.
plus: MOTU Interview, Ubuntu Games, My Opinion, My Story, and now with all new LoCo and Translation Team interviews!
Download it here, as always.
(P.S. We just overhauled the back end of the site.  If you've made an account or comment within the last 36 hours, it may have disappeared.  Plus, f anything seems awry to you, please, let us know!  Thanks!)
Read Full Circle at:
You can also read
Full Circle
online at:
http://issuu.com/fullcirclemagazine

You can also read Full Circle online via Google Play/Books
Go on Flattr us
All donations go to buying you folks some awesome competition prizes.
About
Full Circle is a free, independent, monthly magazine dedicated to the Ubuntu family of Linux operating systems. Each month, it contains helpful how-to articles and reader submitted stories.
Full Circle also features a companion podcast, the Full Circle Podcast, which covers the magazine along with other news of interest.