Issue 31 is out and about
An article by admin
Comments Off

on Issue 31 is out and about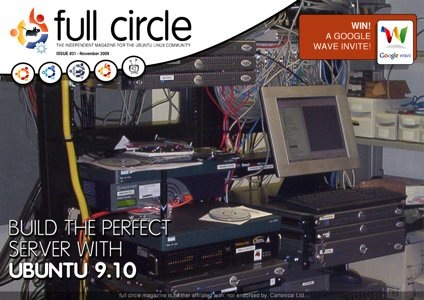 The 31st issue of everybody's favorite Ubuntu magazine is out!  With 9.10 Karmic Koala just about a month old and the next release, Lucid Lynx, already on the horizon and in the news, take a look at what else is going on.
This month, we've got:
Command and Conquer.
How-To: Program in Python – Part 5, The Perfect Server – Part 1, and Universe of Sound.
My Story – The Conversion.
My Opinion – Windows 7.
Review – Linux Mint 7.
MOTU Interview – Andreas Wenning.
Top 5 – Subversion Clients.
Ubuntu Women, Ubuntu Games and all the usual goodness!
Download it here: http://fullcirclemagazine.org/issue-31
Read Full Circle at:
You can also read
Full Circle
online at:
http://issuu.com/fullcirclemagazine

You can also read Full Circle online via Google Play/Books
Go on Flattr us
All donations go to buying you folks some awesome competition prizes.
About
Full Circle is a free, independent, monthly magazine dedicated to the Ubuntu family of Linux operating systems. Each month, it contains helpful how-to articles and reader submitted stories.
Full Circle also features a companion podcast, the Full Circle Podcast, which covers the magazine along with other news of interest.