Issue 29 is here!
An article by admin
Comments Off

on Issue 29 is here!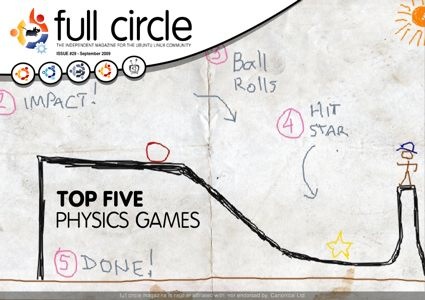 29 is the tenth prime number, but you didn't want to know that. What you do want to know is that issue 29 means that we're going to hit #30 next month!
This month, you'll get:
Command and Conquer
How-To: Program in Python – Part 3, LAMP Server – Part 2, Virtual Private Networking.
My Story – One Man's Journey, and Walk With Ubuntu.
Review – Kompozer.
MOTU Interview – Iulian Udrea.
Top 5 – Physics Games.
Ubuntu Games, as well as all the usual goodness!
Grab it here: http://fullcirclemagazine.org/issue-29/
Read Full Circle at:
You can also read
Full Circle
online at:
http://issuu.com/fullcirclemagazine

You can also read Full Circle online via Google Play/Books
Go on Flattr us
All donations go to buying you folks some awesome competition prizes.
About
Full Circle is a free, independent, monthly magazine dedicated to the Ubuntu family of Linux operating systems. Each month, it contains helpful how-to articles and reader submitted stories.
Full Circle also features a companion podcast, the Full Circle Podcast, which covers the magazine along with other news of interest.